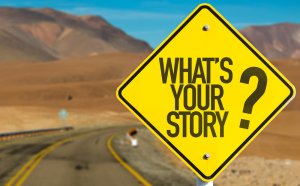 Everybody and their brother has a podcast these days. Podcasts are exploding! Is it because of the education, inspiration, or celebrities? That's what the listeners will tell you. But the elephant in the room that nobody talks about is that podcasts are on fire because they are FREE!
FREE! …To Listeners
In fact, today listeners expect all intellectual property for FREE! So how is it financed? Surely the engineers, studios, and platforms all get paid. Where does that money come from? It comes from advertising and sponsorships. However, advertisers and sponsors aren't going to support a podcast until it has a substantial following. Podcasters must bridge the gap and bet that they can attract a following worthy of sponsorship – and do it before they fold. This can take years. Meanwhile, many podcasters do fold.
A Different Kind of Podcast
But how about a different kind of podcast? A podcast without guests? A podcast that is a STORY? A marriage between an audiobook and a podcast where each chapter is a podcasted episode in a series that tells the more extensive story?
How about making that story about the founding and growing of your company complete with all the challenges, surprises, and seemingly impossible successes?
How about telling that story not just with simple narration, but as a fully-casted audio play with actors voicing the characters in real-life scenes that entertain while they educate, complete with sound effects and music?
And how about adding credibility to each episode with a podcast-like interview that punctuates the end of every episode?
Now, how about hosting that podcast on your website to tell your story, build your brand, and create the engagement and loyalty you seek?
A Powerful Tool
No, you don't need a commercial platform or a sponsor. You are your own sponsor and your business is the beneficiary. Your one-time investment preserves your legacy forever in a popular, easy to download, familiar, and truly mobile format. Use yourbusiness story podcast to attract the kind of people you are looking for. Use it as an onboarding tool. Use it to preserve your culture. And use it to give your vendors and customers more appreciation for your company, its history, and what you stand for.
We Can Do It!
We at Business Audio Theatre, specialize in doing just that! We have perfected the art of fully-casted, business audio story production. With an internationally recognized Hollywood production team with access to top performers, editors, and musical composers, we can do it! Our first production was recognized as one of the Top Five Business Audiobooks of 2020 by the Audiobook Publisher's Association. Forbes calls Business Audio Theatre "Transformational!"
Tell Your Story
As the Founders of the world-famous Barefoot Wine brand, we have 20 years of experience building and running a major company. We faced all the cultural and brand building challenges most businesses face. We have spent the last decade helping hundreds of businesses overcome these common challenges. We've found story to be the most powerful way to convey principles, engage listeners, and recall and apply lessons.
An Experienced Team
Feel confident that your story will be in the hands of knowledgeable business folks who have not only built a world class business themselves, but have mastered the myriad of details necessary to produce award-winning audio theatre. From the playwright who will convert your story into scenes with characters, actions, and outcomes, to the casting of Hollywood actors, from the studio recording and editing to the sound effects and musical score, and from the direction and overall management to the delivery of your final podcast series, you will be in capable and experienced hands.
Fully-Casted Podcast
A fully-casted story in podcasted episodes will grab your listeners' attention and allow them to identify with the characters who lived it. The sound effects and music will bring the script to life. The on-demand, screen free, and page-free convenience will compel more downloads. And the story behind your business – YOUR story – will create appreciation and loyalty. Now you can be more than a company. Now you can star in your own gripping entrepreneurial adventure!
See our one-minute explainer video to learn more.