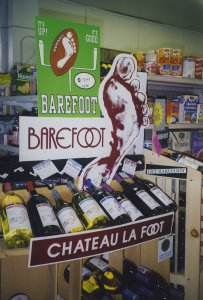 Happy New Year!
January and February are the months when the Big Chains look at your sales for the past year and decide whether to discontinue ("DC") your products or leave them in for another year. This is why it's so important to push for displays and stacks especially during the last quarter. That is your last chance to put more sales on the board. Just like a basketball team, players who don't make points, don't make the cut.
This is also the time when CPG (consumer packaged goods) brand builders should be presenting their marketing plans for the year to their buyers. Again, those plans should include stacks and displays of your products. It's been proven that more product moves off the displays than off the shelves. So how do you get those displays to keep from getting cut next year?
Retail Entertainment
We are big believer in seasonal selling. We used to think retailers were interested in our price, quality, endorsements, features and benefits. And they are to a degree. But after being on the market for a few years we finally realized that what they are most interested in was how we were going to help them decorate their store. They wanted their suppliers to help make their store more inviting, timely, and exciting. They are not only competing with other stores, but they are competing with online vendors. The only thing they could offer that was really different was the recreational shopping experience itself. In other words, "Retail Entertainment."
Can I Get a Little Help Over Here?  
But that's expensive. They can't simply decorate their entire store for every holiday. So, they depend on their suppliers to basically do that for them. Once we understood this basic fact, we became the "kings" of retail entertainment. In January (or sometimes earlier) we would go to our Big Retail Buyers and present them with our plan for retail entertainment for the year. We have written extensively on seasonal selling. And, yes, it's the key to gaining and keeping displays, increased sales, brand building, and of course, making the cut!
Seasonal Selling
Generally, we looked at the year as a series of selling periods that started the day after a bank holiday 3-day weekend and continued until the next bank holiday 3-day weekend. There were exceptions of course when there were holidays that didn't fall on the weekend, or weekend holidays without a bank holiday the following Monday, but you get the idea.
These selling periods were all named by the name of the holiday that would come at the end of the period, like the Easter selling period, the Memorial Day selling period, the 4th of July selling period, and so on. We would present the retailers with a whole year's worth of decorative displays that were in the theme of each holiday. And we would present them with photos showing our stacks and marketing materials.
Permanent Displays
Now the retailers viewed us differently than any other features-and-benefits-pitching competition because now we were helping them decorate their stores with our displays. We even designed certain materials that could be easily turned around, reversed, flipped, or edited with applied décor to allow our displays to remain up for the next selling period. The ideal here was to gain and maintain permanent displays.
Strategic Allies
As an example, we would sell in Christmas displays that could double for New Years, then be revamped for MLK day, then be revamped again for Superbowl Sunday, and again for St Patrick's Day, and yet again for Easter. Once the retailers got the idea that we were providing "Retail Entertainment" in their stores, they saw us as partners and strategic allies. We would present the whole year's worth of promotions in advance so the retailers knew they could depend on us to make their stores more attractive.
Once again, "putting yourself in the other guys shoes" early and often pays off big when you are building a CPG brand. …and it's fun too! We hope this helps all our CPG brand building followers make the cut this year and become retail entertainers in the new year! Cheers! And Happy New Year!