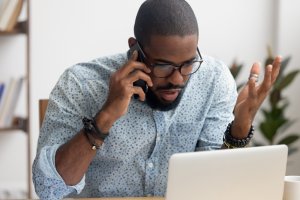 This is the third installment in a three part series on common mistakes businesses make. They are all based on popularly held misconceptions. In the first two installments we examined the first mistake, thinking that all you need is money, and the second mistake, thinking that all you need is a great product at a great price.
Both these mistakes are fatal.
Today we will examine the third most commonly held mistake, thinking that somebody else will do it for you.
MISTAKE #3
Thinking that surrounding yourself with the right people
is all you need to do
Budding entrepreneurs regularly underestimate what it takes to get people to perform.
Someone Else Will Do It!
They mistakenly assume that if you pay someone to do a job, they will do it.  As if that somehow, magically, ensures people will do what they're told and live up to your expectations.
This false belief extends beyond your own people to contracted service people and the people who work for the companies that you depend on to get the job done.
Don't make this mistake!
Attention Required!
It's tough enough to get YOUR own team to perform at an optimal level. Getting others – who are not under your direct control – to deliver the results you need requires careful attention.
Many see labor as a just another cost where the idea is to see how little you can pay to get the job done. They assume that a paycheck, contract for services, or other incentive guarantees performance.
Inexperienced entrepreneurs are right about one thing; they are going to be dependent on other people.
Coaching and Direction Required!
What they forget is that people are people. And whether they stay or leave, produce or just go through the motions, represent your product positively or negatively – depends entirely on how you work with them.
Countless entrepreneurs think they know how to hire, train, and engage their people. They think, "When I get my own business, I'll be the boss" and that being the boss means some kind of power position where they can hire and fire at will. On TV, there "seems" to be a great deal of satisfaction in saying, "You're fired!"
The reality, however, is VERY different.
Get Them On Board!
Turnover is the #1 hidden cost of any business. You'll never see a line item on any business plan that reads – "turnover cost $100,000 in the first three years". Yet if that were all it cost you, you would be lucky!
Many promising entrepreneurs with great products are held back by their own people. They ask the wrong questions in the interview. They oversimplify the orientation process and compensate them the wrong way.
In short, they hire the wrong people and continue to stick it out with them until it is too late.
Most entrepreneurs totally misjudge how much time they will need to devote to personnel and contracted services management.
They think it's all about production which sets the stage for disappointment, or worse.
The Cost
The idea that other people will somehow do the job for which they are paid, resulting in you getting rich without a great deal of thought and care on your part, is a media fantasy that usually leads to disaster.
Here are some results that kind of faulty thinking can often lead to:
Your people leave and you are out the time and cost of advertising, interviewing, training, institutional knowledge, and relationships with vendors and customers.
You let your own ego get involved and refuse to admit you made a hiring mistake causing personnel problems and overall lack of productivity.
You get a default company culture which is based on the lowest common denominator of social cooperation.
You get people who think that job preservation is more important than company success.
Misunderstandings, personality clashes and pettiness abound rather than cooperation, collaboration and teamwork.
Your people don't have a personal stake in your business, so they telegraph their negative attitude to everyone around them. Now your vendors and customers don't care about your business either.
Your people merely put in their time and ask for raises based on tenure, not performance.
Your products are stopped on their way to your customer by your contracted services, resulting in the worst of all possible customer experiences; they want it but can't buy it.
Your contracted services don't perform to your expectations and hurt your reputation with your buyers.
Find Good People – Build Great People
Successful entrepreneurs require good people at every level. Good people are built, not found. That means if you don't learn how to hire, engage, and compensate your staff and contracted services properly, failure will soon follow.
Understanding these three common mistakes that can doom your startup will not only dramatically improve your odds of success as an entrepreneur, but it WILL save you tons of money, anxiety, and brand loyalty.
Most businesses are not killed by the competition; they die of self -inflicted wounds resulting from faulty assumptions that lead to fatal entrepreneurial mistakes.
Go back and re read this series as it is our best advice for startup and business growth success. We want you to make it and not buy into the commonly held misconceptions, and not repeat the mistakes we made!