Welcome! Please find below a list of links to photos, bios, book images, interviews, etc… for you to use. If you would like additional images or info, please email Mike Elliott at MDE@thebarefootspirit.com. To book Michael &
Bonnie for your next event, please visit our Book Us Page.
Michael & Bonnie Photos
Book Images
The Barefoot Spirit Book Trailer
Best Seller Lists
Publicity Package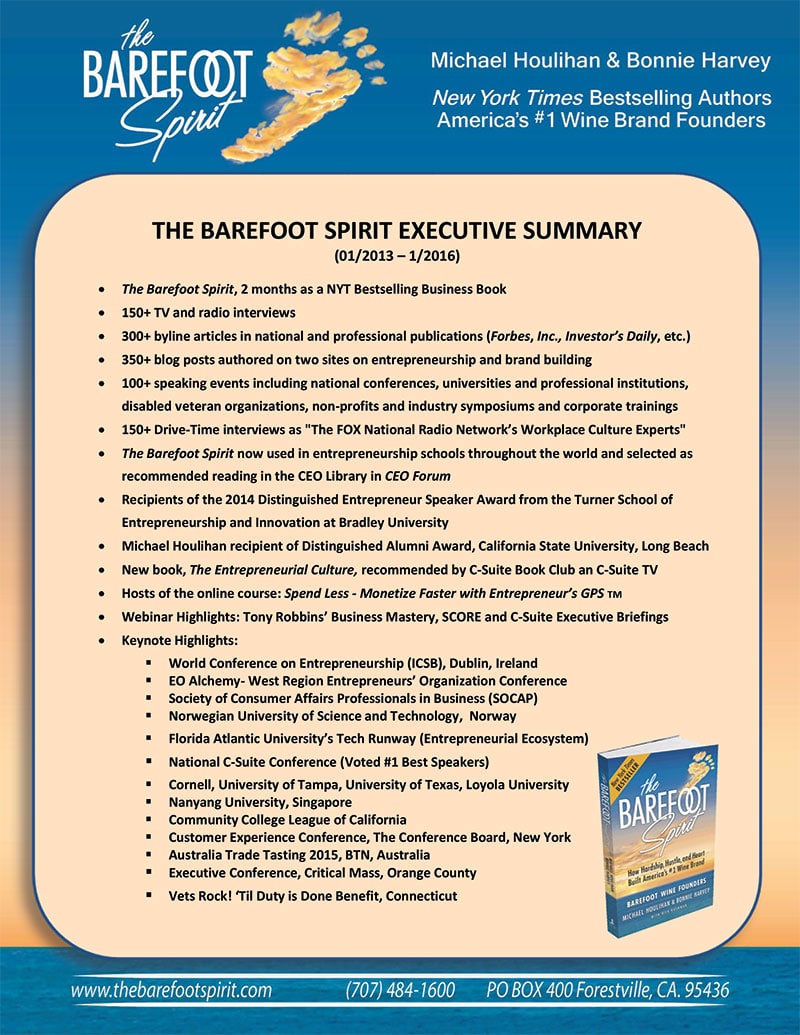 Executive Summary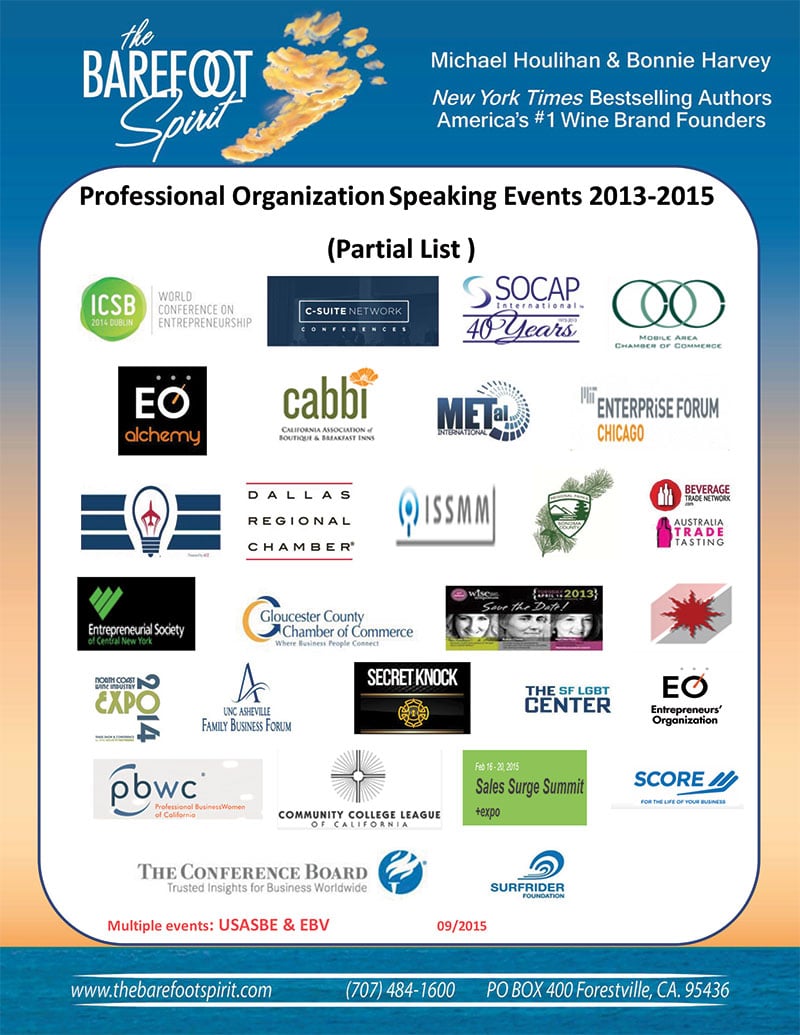 Commercial Speaking Events Logo Sheet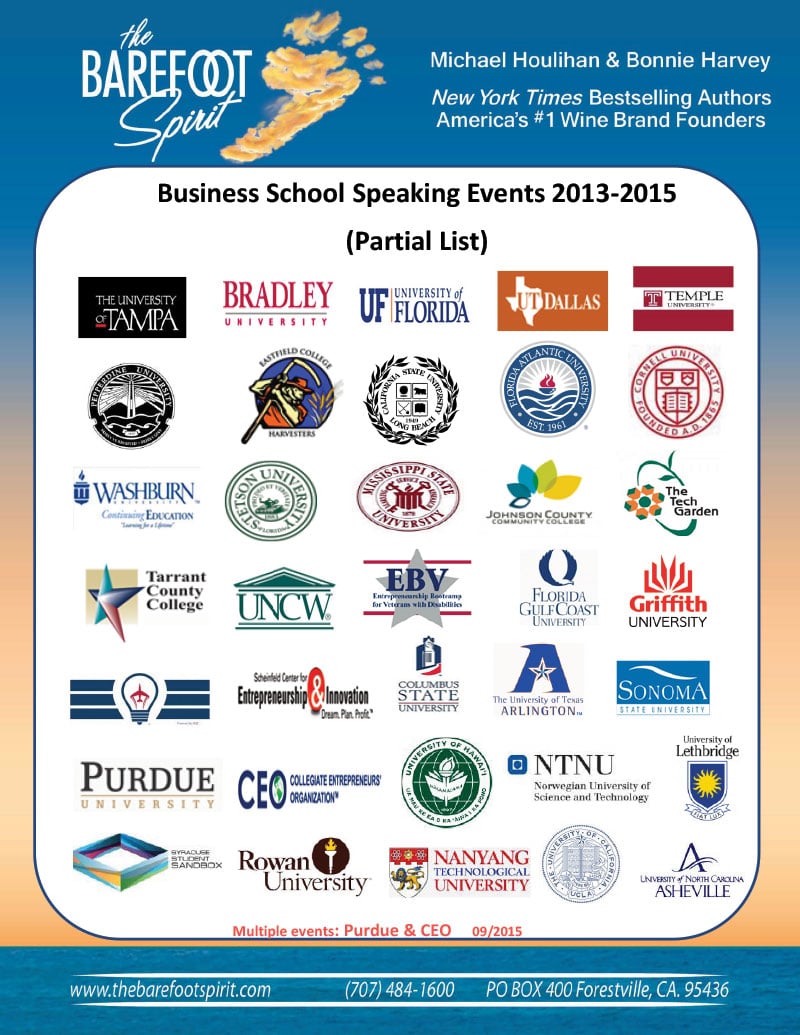 Business School Speaking Events Logo Sheet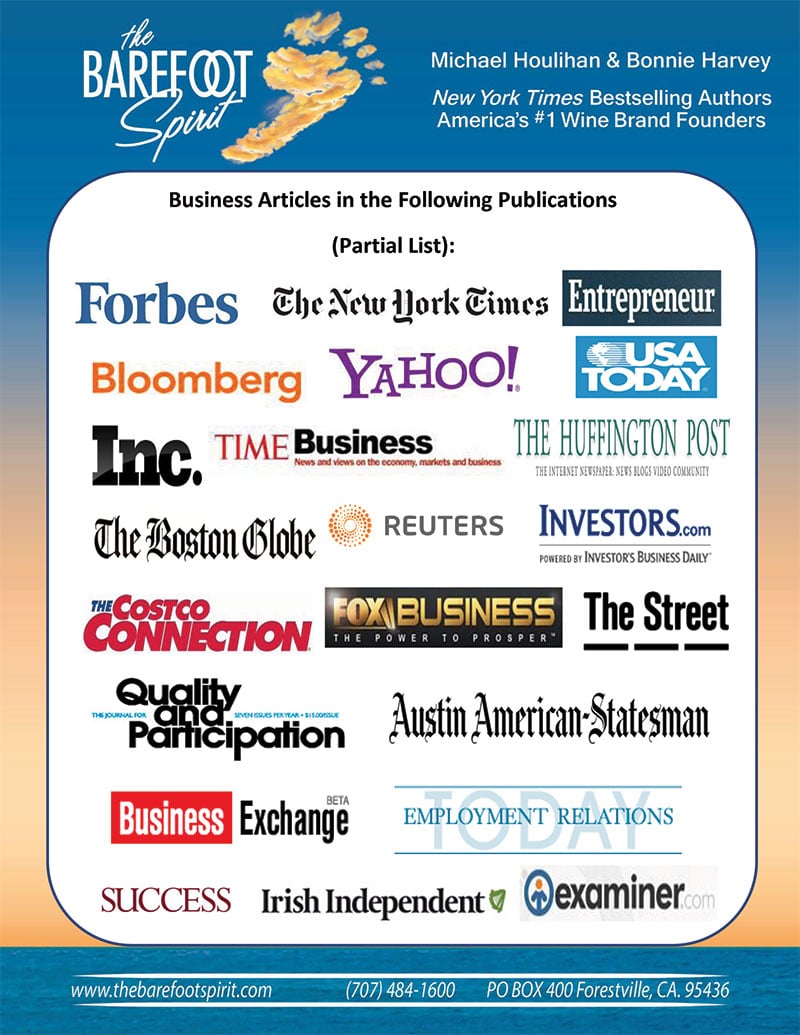 Print & Online Business Articles
Television & Radio Appearances
The Barefoot Wine Founders Share the Secrets of Success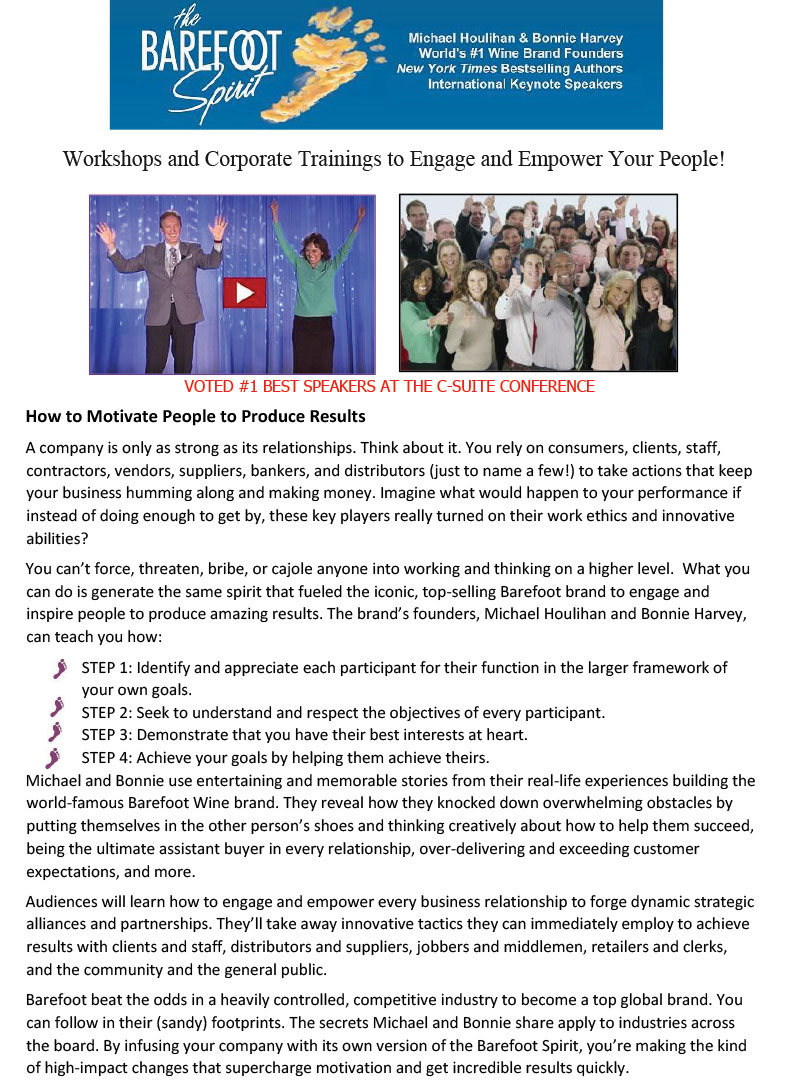 Entrepreneurial Culture Trainings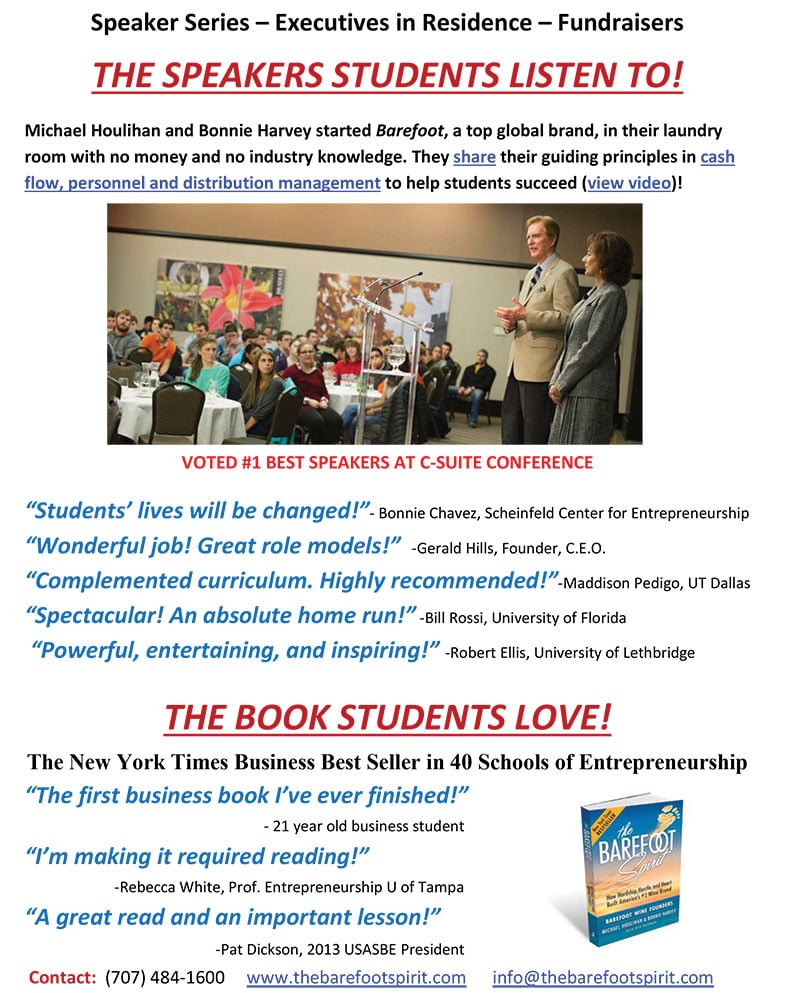 For Speakers Series, Exec. in Residence – Barefoot Wine Founders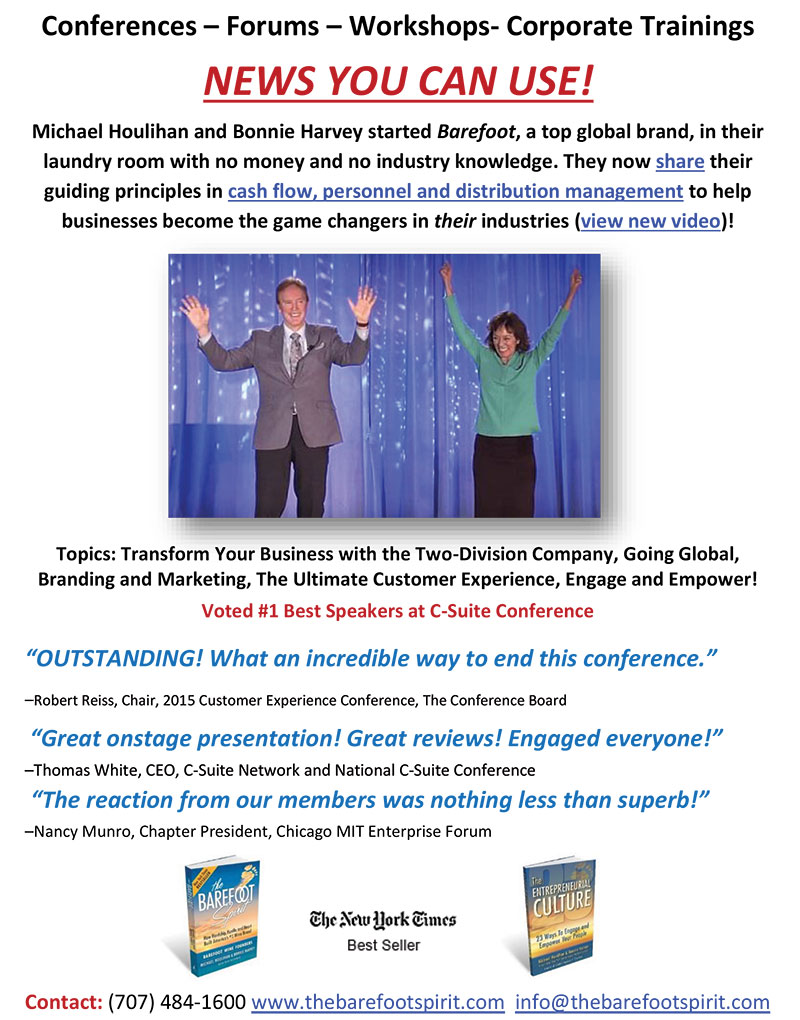 For Conferences, Workshops, Trainings – Barefoot Wine Founders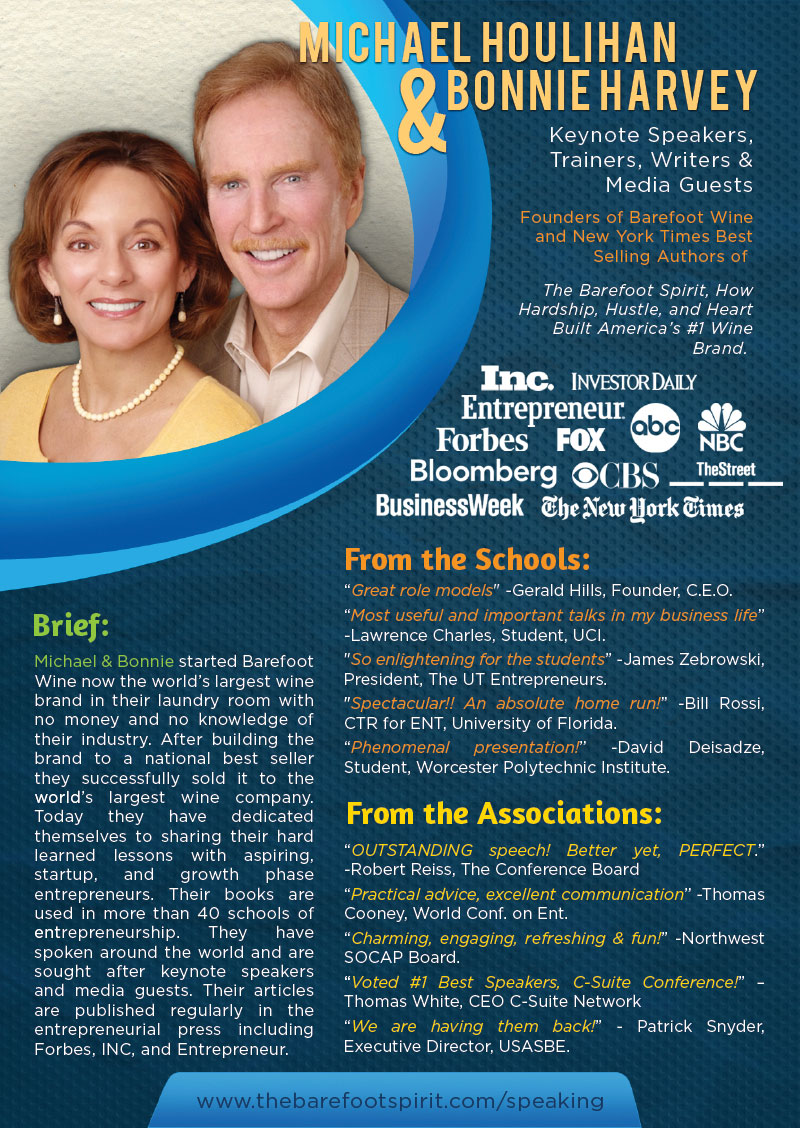 Speaking Info Two-Sheet
Interviews
Speaking Topics
Universities that have Adopted The Barefoot Spirit in their Classrooms
University of Hawaii
Florida Gulf Coast University
Stetson University of Florida
University of Florida in Gainesville, Warrington School of Business
University of Tampa, John H. Sykes College of Business
Florida State University at Tallahassee
University of Texas at Arlington
University of Texas at Dallas
Tarrant College in Fort Worth, Texas
Eastfield College in Mesquite, Texas
Cornell University
University of North Carolina at Wilmington
Mississippi State University
Bradley University, Peoria, IL
Johnson County Community College, Overland Park, KS
Washburn University, Topeka, KS
University of Ulster Florida State University
University of Lethbridge
Dublin Institute of Technology, Dublin, IE
UNC Ashville, Ashville, NC
Pepperdine University
Rowan University, New Jersey
Florida Atlantic University
Norwegian University of Science and Technology, Trondheim, Norway
NOTE: The entire memberships of the United States Association for Small Business and the International Council for Small Business have received books.
Barefoot Spirit Wine Founders Social Media
Purchase Books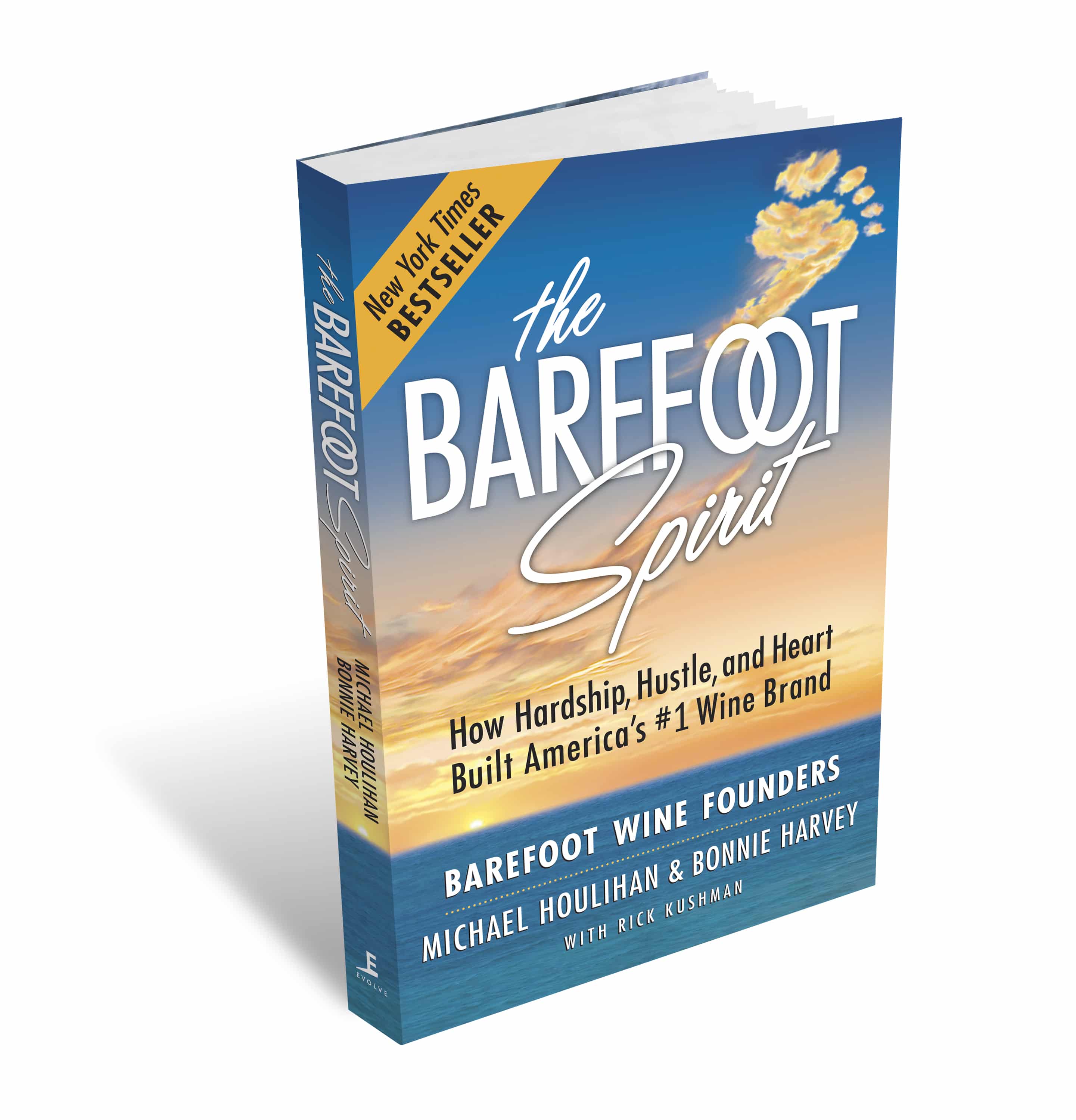 Why should you buy The Barefoot Spirit?
The Barefoot Spirit, New York Times Bestselling Paperback Business Book and USA Today Bestseller
Skillfully written by award winning journalist, Rick Kushman (Not another "then I" book)
Business Adventure story (not a prescriptive text)
Humble beginnings of the #1 Wine Brand in the US now!
American success – rags to riches story
Wine Brand was built without advertising relying on word of mouth from NPOs it supported
Brand was a disrupter and an industry reformer
Larger font, illustrations, easy read
Yahoo says "Perfect beach read for the summer!" (Timing is right)
Everybody loves wine stories! First behind-the-scenes view of the wine business